FEATURING: Emiko Oye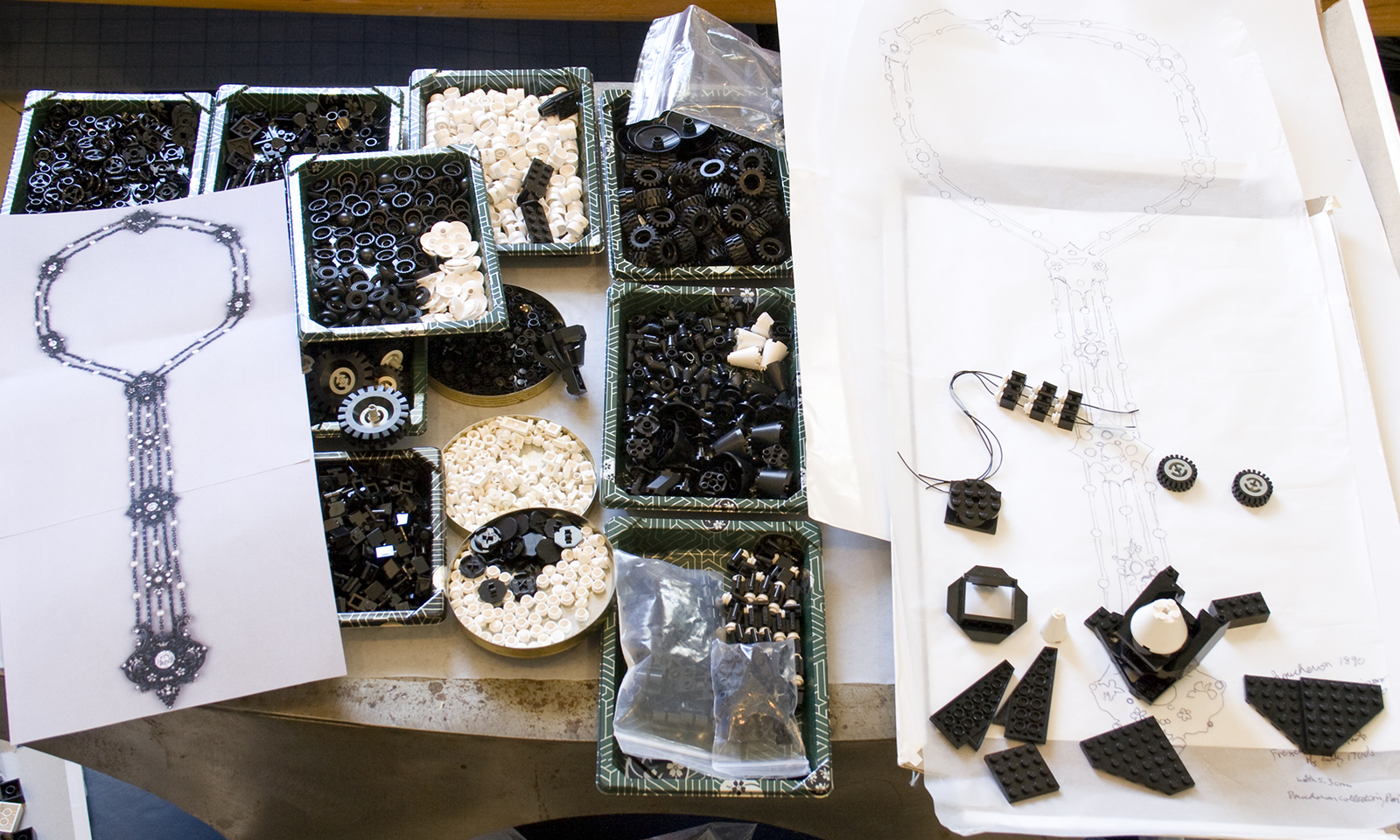 WHAT OR WHO DO YOU FIND INSPIRING?
Getting out of the house to see art exhibitions at museums and galleries – the special exhibits shown at the De Young or Legion of Honor here in SF have inspired many of my recent larger, more conceptual bodies of work; Historical jewelry by Cartier, Lalique & Boucheron, room-size installations by Louise Nevelson, avante garde fashion by Viviane Westwood, paper fashion mastery by Isabelle de Borchgrave. When designing for my reware line, I'm hyper aware of eye-catching, unusual color patterns all around me – on the street, in the fashion mags, paintings, architecture.

HOW DID YOU DISCOVER YOUR CREATIVE PROFESSION?
My study of Metalsmithing, Fashion Design and Costume Design at Syracuse University ignited the spark that led me into this land of art jewelry that I live and breathe. I've always felt most alive when making, especially when it comes to transforming found materials into something inspiring and unexpected. Establishing roots in San Francisco where there is a strong craft and jewelry community and much self-starter enthusiasm, made it much easier to cultivate my creative passion into a viable jewelry business. While simultaneously expanding my ready-to-wear business and exhibiting my one-of-a-kind art jewelry in museums, I began to receive accolades from the well-respected in my field, with fans fondly referring to me as "The LEGO® Lady"
WHAT IS THE TOUGHEST THING YOU HAVE BEEN THROUGH PROFESSIONALLY?
The most challenging professional experience was my first year leading the helm of the Metal Arts Guild (http://metalartsguildsf.org/) , a Bay Area non-profit at a pivotal point in it's history – the 60th Anniversary. It was my mission to re-energize the membership by broadening our community, cross-pollinating with other arts organizations and bring the guild into the digital age. Planning a fanfare year with our first-ever symposium, 3 juried exhibitions, parties, turned my brain into high year 24-7 – way more intense than planning my own wedding. Learning how to let go of complete control and delegate, trusting that people will pull through was my biggest lesson and lifesaver along with riding the magic wave of collaboration. What seems like serendipity is really being open to the idea that anything is possible when empowered and invigorated people come together for a project or cause.
WHO ARE THE PEOPLE THAT HAVE BEEN INSTRUMENTAL TO YOUR SUCCESS?
I owe much of my success to my mentor and fellow recycling artist, Harriete Estel Berman. As her assistant for over a decade, I learned first-hand how to be a professional, accessible, and reliable artist and develop skills for everything business related, from marketing & designing, photography & presentations, pricing and accounting. Plus she led me straight to the LEGO® store as a source of inspiration! http://askharriete.typepad.com
Also big props to my Critique Group, an art collective of 7 peers, we meet monthly (since 1998!) to share what we're working on to get feedback and keep us on track, both with our creations and in our businesses. These people have become family and we're not afraid to give each other tough love advice! Some of the best art I've created was because I was open to the group's suggestions during my design process and ran with it.
WHY DO YOU LOVE ADHESIVE?
I love getting out of my jewelry and studio craft bubble and am always inspired by meeting other creatives who are doing what they love and energized by it. It's a breath of fresh air to attend these gatherings, 'cause you never know whom you might meet – I always walk away with a new perspective on what I'm doing, fired up to get back to the studio!
Please contact member directly for information about production, permission and usage.
All images are copyrighted.